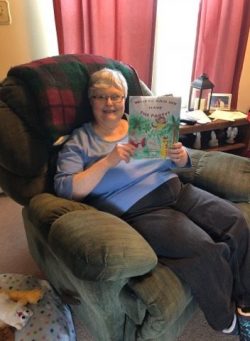 This month our featured participant is Deb Hockenberry from Altoona, PA. For 30 years, Deb's doctors had diagnosed her with Multiple Sclerosis (MS), however, after not having many answers they found out that is was a misdiagnosis for Spinocerebella Ataxia (SCA). Spinocerebella is a slowly progressive incoordination of gait and is often associated with poor coordination of hands, speech, and eye movements. SCA is often confused with MS but is even more uncommon and is yet to have a cure. The biggest struggle Deb faces is the judgement of others. To most, her diagnosis is invisible, she looks healthy and can do many things on her own, however, behind her smile and strength is the pain that she feels daily due to her condition.
Getting the chance to talk with Deb, you quickly see her determination and edge. In fact, she recently released her first-ever children's book, "Where Can We Have the Party?" The topic of her book was something that she has thought about for years, she would read books as a child and wonder why there were not many about talking animals going to a party. So, she decided she would write the book herself. Once she began, she learned that it was not as simple as she thought. You must learn the correct grammar and punctuation that is used to write children's books. She took classes online and reached out to publishers and businesses to get her book published and sold. The book is illustrated by her friend, Emily Dimov-Gottshall, with watercolor paint. Deb even designed the layout of the book on her own using an online site and the illustrations from Emily. Finally, after years of putting in hard work and waiting, she is now a children's book author.
On May 12th, 2018, Deb will be presenting and selling her book at the first-ever Altoona Book Festival. During this event, a dance group will choreograph the reading of her book. If you're in the area and available that day, be sure to stop by the Altoona Library to meet and talk to Deb to learn about her love for Harry Potter and her cat, Harry (yes, after the Potter).
A piece of advice Deb would like to share to our readers is to "Never give up. If there's something you want to do, you'll do it." There's no limit when you have your heart set on something. Disabled or not, chase after your dreams and never give up. Deb is an intelligent and loving woman, she sought after her dreams and accomplished them. You can too. As her Service Coordination Agency, we are so thrilled at the achievements that she's reached so far and are excited to see what the future has in store for her.
If you would like to order a copy of "Where Can We Have the Party?" you can find it on Amazon.com. You can also visit her Facebook page at www.facebook.com/AuthorDebHockenberry to learn more about Deb and find out where her next appearances are and information about her future books!
https://scalucp.org/wp-content/uploads/2018/05/deb-e1526316484807.jpg
204
163
Jocelyn Hartman
https://scalucp.org/wp-content/uploads/2020/09/aucp-logo.png
Jocelyn Hartman
2018-05-14 12:42:56
2018-05-14 12:48:41
Deb Hockenberry of Altoona, PA