Barb Zablotney of Windber, PA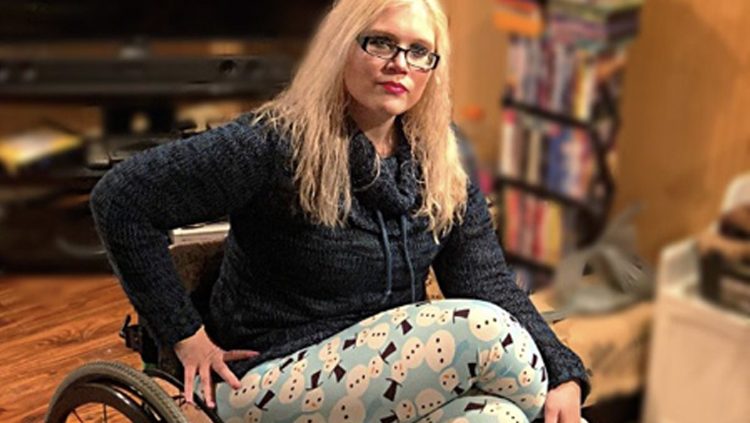 One thing is for sure, we never truly know what tomorrow holds. For UCP participant and Windber, PA native, Barbara Zablotney, one icy night changed her life forever. On December 30th, 2008 at the young age of 21, Barb was in a car accident which left her with a spinal cord injury causing her to be paralyzed from the waist down. Just five weeks from graduating from Johnson College in Scranton, PA to be a veterinary technician, Barb could not have been prepared for what the future would hold for her. The accident was followed by losing her mother and separating from her long-time fiancé leading her into years of depression and weight gain. The paralysis also leaves her without the ability to control her bowel or bladder. Barb reached out to her doctor to investigate receiving surgery to manage her bowel and bladder functions, she was told that she was too big. Something switched in her at that moment, she wanted to live a better life, a life that she wanted to live.
Today, Barb is down more than 100 pounds thanks to eating healthier and working with her personal trainer, exercise physiologist Mark Rhodes and Healthstyles Wellness Center in Windber. On March 3rd, Barb will be competing in Ms. Wheelchair Pennsylvania where she will present her platform about the ignorance she faces daily due to her disability. Barb is able to drive, live independently, and go out on her own, and it frustrates her that people think that she automatically needs their help. Good intentions or not, Barb says it'd be better if people would just wait until she asks for help rather than assuming she needs it.
"I want people to look at me how they would anyone else. I want them to see me like they did before."
If Barb wins Ms. Wheelchair Pennsylvania she will move onto the Ms. Wheelchair America pageant in August. The winner will then make public appearances twice a month to advocate for disability awareness. Barb believes that with the title as Ms. Wheelchair, she will be able to continue to get the word out there about the ignorance people have regarding disabilities. "It's a visible, invisible disability" and she wants to continue to educate on the rights of disabled persons.  For the future, Barb plans to continue to visit schools to educate on destructive decisions and disabilities, record her workout sessions and post them on YouTube for other disabled persons, undergo the surgery to manage her bowel and bladder functions, and be able to go back to work.
"There's a beginning to it all, you just need to start," Barb stated. Alleghenies United Cerebral Palsy is inspired by Barb and her efforts to advocate for disabilities and we proudly stand behind her as her service coordination agency.  If you would like to learn more about Barb and follow her journey through the Ms. Wheelchair pageant you can follow her Instagram (@therollingrainbow) and Snapchat (@rollinh_rainbow) and look up her workout videos on YouTube by searching the users "Rolling Rainbow Barb."
https://scalucp.org/wp-content/uploads/2018/03/BARB-ZABLOTNEY.jpg
482
750
aucpadmin
https://scalucp.org/wp-content/uploads/2020/09/aucp-logo.png
aucpadmin
2018-03-27 15:13:11
2018-04-03 17:58:54
Barb Zablotney of Windber, PA