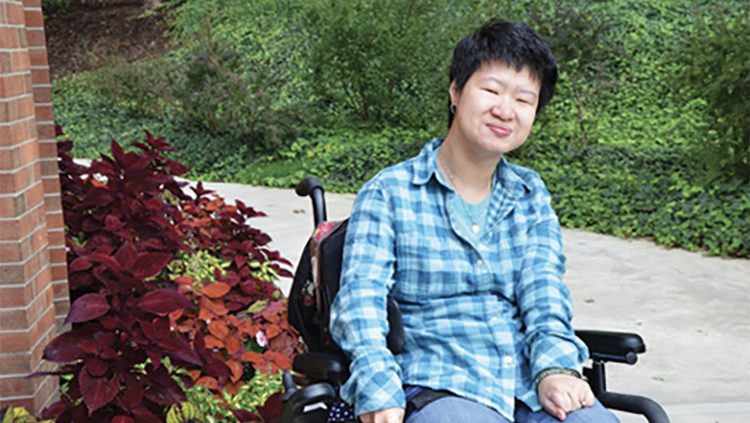 We are so excited to introduce you to our very own, Erin Kelly, 32, of Altoona, PA. The following is her bio for your reading pleasure.  Erin M. Kelly's path to becoming a writer began with a simple box of crayons she had as a child. Her mind went on autopilot as her hand drew brilliant streaks of blue, red, and every other color of a rainbow.
She utilized her creativity as a way to not only learn to live with her diagnosis of cerebral palsy but to understand it. Most of all, she wanted to be seen, heard, and understood. Erin's willingness to learn about the craft of writing and editing has led to her chosen career. She is a now writer, journalist, columnist, freelance editor. and poet who enjoys writing in all genres. She wants to be recognized for her work rather than her disability. Her work has been published by The Huffington Post, Upworthy, The Mighty, The Good Men Project, Wordgathering Poetry Journal, XoJane, and Oberon Poetry Magazine. Erin also writes a monthly column entitled, "The View from Here," for the local newspaper in Altoona, Pennsylvania, addressing the challenges she faces daily. She served as Editor for the memoir, To Cope and To Prevail, by Dr. Ilse-Rose Warg. Writing is her window to the world giving her the opportunity to bring what's inside out.
Through her twenty-year journey, Erin has learned the importance of responsibility and kindness. Her writing has provided a platform for her to educate and entertain readers with a mindful purpose: to let others know that disability, in general, is not something to be feared, but rather, embraced. More importantly, Erin writes to spread her message that she wants to be treated the same as everyone she meets. She does it all knowing that writing, and the uniquely hectic life that comes with it, is a conscious choice. She's forever grateful for everyone who chose to come along for the ride!"
Erin has recently announced that her first book, titled "How to Wait," a collection of poems about life from Kelly's point of view. The book is now available for pre-order until March 9th. You can place your order today by visiting www.finishlinepress.com. Erin is being recognized for the positive impact her writing has had on the community and will be the 2018 recipient of the WISE Women of Blair County Award in the category of Arts and Letters. It is so inspiring to see how Erin continues to pursue her passions despite the barriers that she faces. We are so honored to be her service coordination agency and are proud to provide her the services that help her to live independently.
https://scalucp.org/wp-content/uploads/2018/03/eric-kelly.jpg
482
750
aucpadmin
https://scalucp.org/wp-content/uploads/2018/04/aucp-logo-156@2x.png
aucpadmin
2018-03-26 20:18:01
2018-04-03 17:59:44
Erin Kelly of Altoona, PA