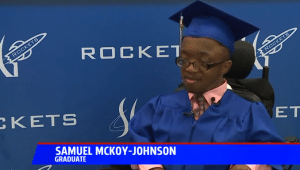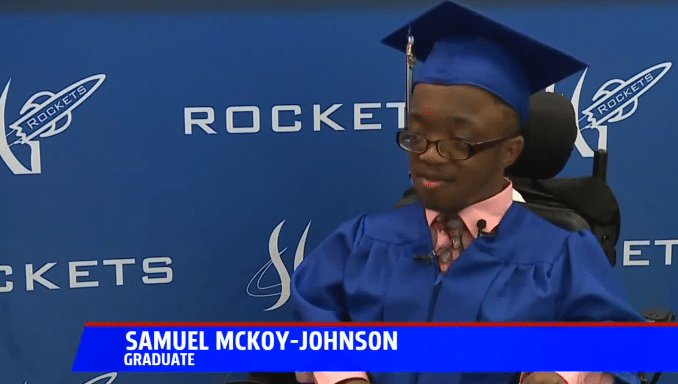 Source: FOX 43, Jossie Carbonare / June 1, 2018
Taking big steps and beating the odds.
18-year old Samuel Mckoy-Johnson suffers from Osteogenesis Imperfecta, also known as brittle bone disease, making his bones easy to break and confining him to a wheelchair. But this June — he did something remarkable.
Johnson was able to take steps across the stage to receive his high school diploma at Spring Grove Area High School in York County.
"I've been through a lot of stuff, a lot of operations, a lot of surgeries, but you know, through it all I made it, I'm here, and I get to walk across the stage," said Samuel McKoy-Johnson.
From walking hallways — to standing minutes at a time to build his endurance— Johnson has spent the last year going to physical therapy— twice a week — to prepare for the big day. "I knew that's what I wanted to do and I wasn't going to let anything stop me," added McKoy-Johnson. His therapist, Stacy Fisher says she's seen a lot of grit and determination to get him where he is today.
"Seeing him right after school, seeing him on the good days after school, on the bad days after school and that he still pulls it out, does what he needs to do with therapy, even though he may not have had the best day," said Fisher.
"It's amazing to see the transformation from where we started to right after he had surgery to where we are now it's just amazing and is a true testament to his good hard work," added Fisher.
Giving the ultimate life-lesson to each person he crosses paths with: to keep fighting, pushing and never give up. "He always says mom, I am ok, I am not going to sit around and feel sorry for myself so I am very proud of him, very proud," said Tasha McKoy, mother.
His next steps? He's headed off to college at Harrisburg Area Community College "The same work ethic I put in to be able to walk across this stage is the same work ethic I'm going to put in throughout life," added Johnson.
So to anyone facing a challenge:
"Where there is life there is hope, and if there is will, there is always a way," said Johnson. "Don't let anything stop you, always stay true to yourself, stay focused, have self confidence and you can accomplish anything," he added.
https://scalucp.org/wp-content/uploads/2018/08/samuel.png
384
678
Jocelyn Hartman
https://scalucp.org/wp-content/uploads/2020/09/aucp-logo.png
Jocelyn Hartman
2018-08-13 09:28:03
2018-08-13 09:34:53
Samuel McKoy-Johnson