Staff Spotlight July – Caitlin McCoy
This m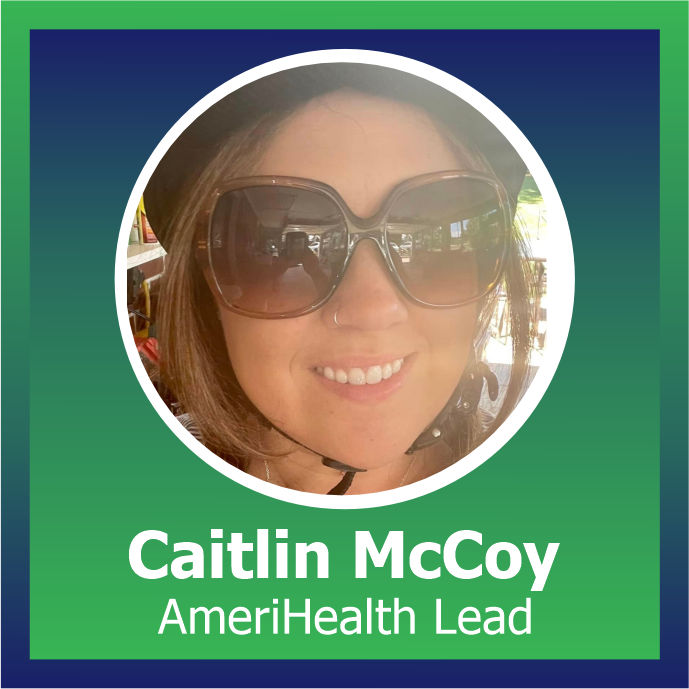 onth for our Staff Spotlight, we are featuring Caitlin McCoy – AmeriHealth Service Coordinator Lead
I have been a Service Coordinator with AUCP since 10/12/2021  and a Lead Staff since 9/12/2022. Before this job, I spent 11 years working for Child Protective Services, so the elderly clientele is quite a change of pace for me. I have lived in Shippensburg, Pa. for the last five years; however, I am originally from Chambersburg which is a quick drive away from where I currently live. I live on a quiet street with a lot of elderly people, which is the best, because my grandparents love me, and they are my favorite too. I went to College at the University of Shippensburg because it was a short drive from my home, and I wanted a reputable school that I could commute to while taking care of my elderly grandparents. I fell in love with all the small-town events, shops, and the community while I was in college; Shippensburg is like our very own Stars Hallow! It was pretty easy talking my husband into buying our house in Ship because he was from the area too, and well… he typically does what tell him to…. Sometimes.
What is the most challenging part of your job at AUCP?
It is trying to help others who do not see their own, potential or do not think they deserve to be helped out of a hard situation. To me is one of the most heartbreaking situations those in social work can face.
What is the most rewarding part of your job at AUCP?
is when I can have a hard conversation with someone and we can walk away with mutual respect, and I have earned their trust; especially if it is a participant who has been deemed "difficult" I pride myself in being empathetic, honest, and treating others how I would want my family members to be treated.
https://scalucp.org/wp-content/uploads/2023/07/Caillin-McCoy-spotlight-pic.jpg
689
689
SCALUCP
https://scalucp.org/wp-content/uploads/2020/09/aucp-logo.png
SCALUCP
2023-07-11 13:30:01
2023-07-11 13:31:49
Staff Spotlight July – Caitlin McCoy