Participant Highlight – Michael Kiel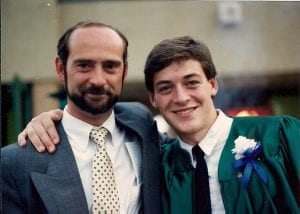 When he was just 19-years-old and a college sophomore, Michael Kiel just so happened to be at the wrong place at the wrong time. On a mid-April night in 1993, Michael was shot in the side of the neck outside of a convenience store, leaving him completely paralyzed from the neck down. This occurrence may have changed the entire trajectory of his life, but it did not change who he is at his core.
Michael has a Bachelor's degree in Psychology and a Masters degree in Rehab Counseling. Today, he works as a Rehab Specialist for the University of Pittsburgh School of Health and Rehabilitation at the Hiram G. Andrews Center in Johnstown, PA. His job is to work with other individuals with disabilities that are attending vocational school and he assists the students in identifying life obstacles. In his free time, Mike enjoys playing chess with his nephews and being with his friends and family. He has come to realize that who he is with is always more important than what they are doing. 
Over the last 20-some years, Michael has had a lot of time to think about his perspective on life, find a special sense of humor, and share his story with those around him. As a way to cope with his injury, Mike began to write about his life events before, during, and after his spinal-cord injury. In August of this year, he released his first book, "Challenge the Moment", which is available for purchase on Amazon and in-store at Classic Elements in downtown Johnstown. This book serves as a memoir full of stories of his life and is said to be "brutally honest and painfully descriptive," and at the same time "relentlessly positive, funny, and charming." Michael says it offers a broader perspective on life and encourages the readers to enjoy the journey along the way.
As an agency that works with people with all forms of disabilities, whether they are disabled since birth or due to some sort of tragedy, we have to agree with Mike that perspective is such an important attribute to how one goes throughout their life. When we asked Mike what piece of advice he would give to our readers, he responded in the following quote:
"There is more in us than we know. If we can be made to see it, perhaps, for the rest of our lives, we will be unwilling to settle for less." 

– Kurt Hahn
Thanks for being willing to share your story, Michael – there's so much to be learned from the stories you've allowed the world to experience through your words.
Follow Mike on Social Media:
Facebook | Twitter  | Instagram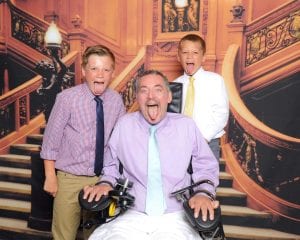 https://scalucp.org/wp-content/uploads/2019/09/5.jpg
1152
1440
SCALUCP
https://scalucp.org/wp-content/uploads/2020/09/aucp-logo.png
SCALUCP
2019-09-27 11:05:27
2019-11-25 11:56:36
Participant Highlight – Michael Kiel