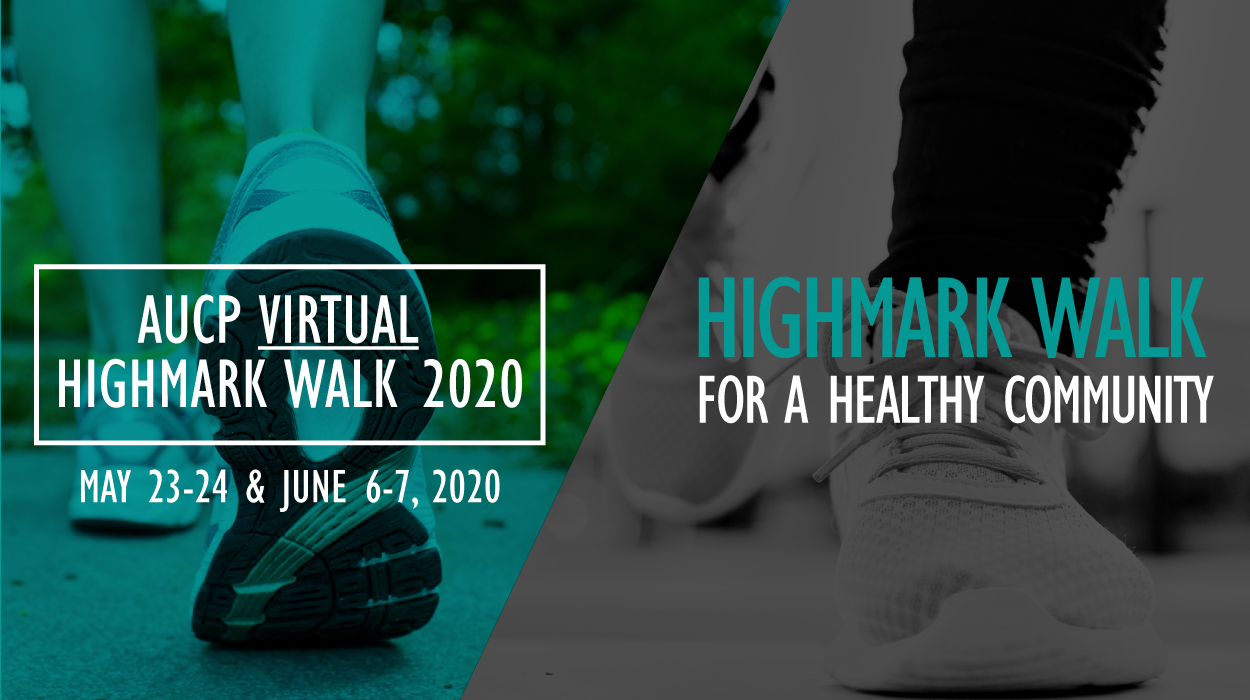 Due to the Covid-19 pandemic, Highmark made the difficult decision to cancel all of the events for the Highmark for a Healthy Community Walk of 2020. This included both the Pittsburgh and Laurel Highlands walks that AUCP was set to participate in. Due to this, AUCP is going to be hosting two Virtual Highmark Walk weekends on Saturday, May 23rd- Sunday, May 24th and Saturday June 6th – Sunday, June 7th!
By registering to walk with us, you are continuing to make an impact on your community. Every dollar raised will go toward our Community Fund that helps us to give back to our community in great ways! 
What makes a Virtual Walk unique? 
You get to walk at any time over the weekend of your choice, wherever you choose, without the need to attend an event. You can even create your own Virtual Walk team just as you would if we were walking at an event. Highmark has given us all the tools and tips to reach our goals. 
How will it work?
Register as a virtual walker by creating your own team or joining an existing one, reach out to your friends and family to support you, and walk with us on the weekend of May 23rd-24th or June 6th-7th. Another great thing is that you get to choose how long you walk! All we ask is that you snap a picture  holding a sign to show why you're walking and submit it to us so we see where you are joining us from. Get your friends and family to walk with you to increase the distance you are able to cover and the impact you make! 
Why is your participation so important?
All of the funds raised during the AUCP Highmark Walk weekend go toward grants for members of our community experiencing financial need. This includes sponsoring scholarships for high school seniors pursuing college degrees in human services. 
Every $2,000 that is raised allows us to provide grants to community members each quarter!
Every $1,000 helps us sponsor a family during our Holiday Blessings drive and/or sponsor a scholarship for a high school senior pursuing a human service degree.
Goals:
Help us reach our goal of raising a total of $7,500 in making an impact on the community.
Incentives:
If you raise at least $15 you will receive a commemorative 2020 Highmark Walk t-shirt AND a customized 2020 AUCP t-shirt. 
CORPORATE SPONSORSHIP LEVELS:
$25 & more: Website recognition
$250 & more: Company logo and recognition on our social media and website
$1,000 & more: Company logo placed on the back of event t-shirts and public recognition
For more information about sponsorship opportunities, please contact Jocelyn at 814-915-4055 or jhartman@scalucp.org.
THANK YOU TO OUR 2020 DONORS:
Total Mobility Services
Integrity Home Care, LLC
Blue Ridge Holdings, LLC
Wessel & Company
CBIZ Employee Benefits
Best Window and Door Company
Cambria Somerset Remodelers
Bayada Home Health Care
Liberty Wire Johnstown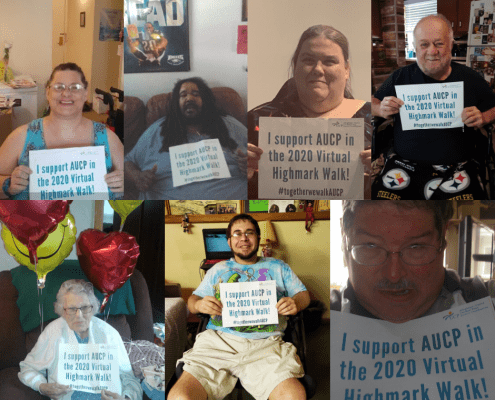 https://scalucp.org/wp-content/uploads/2020/06/Participant-Pictures.png
788
940
SCALUCP
https://scalucp.org/wp-content/uploads/2020/09/aucp-logo.png
SCALUCP
2020-06-26 11:07:28
2020-06-26 11:07:28
Highmark Walk Participants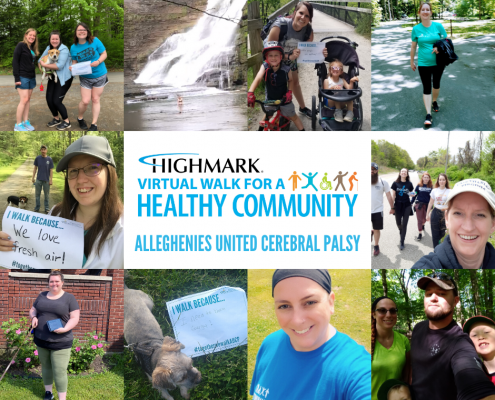 https://scalucp.org/wp-content/uploads/2020/06/Alleghenies-United-Cerebral-Palsy-walk.png
788
940
SCALUCP
https://scalucp.org/wp-content/uploads/2020/09/aucp-logo.png
SCALUCP
2020-06-26 10:56:45
2020-06-26 11:14:08
Highmark Walk Update #2