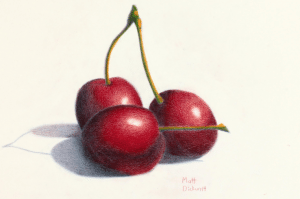 Matthew Dickun is a 28 year-old, self-taught artist from Mount Washington, PA. Matthew lives with duchenne muscular dystrophy, but in no way does he allow it to define him.
Dickun graduated from Pittsburgh Technical College (PTC) with an Associates Degree in Science for Computer Aided Drafting in 2011. His education taught him how to use 3D software for designing mechanical parts. This gave him a solid base from which to learn 3D modeling in a more artistic way.
Matthew also enjoys creating artwork with colored-pencils, markers, and graphite pencil. He focuses on drawing subjects from science fiction and fantasy genres and had dabbled in other various traditional are genres.
After graduating from PTC he had an internship with Siemens where he learned that a desk job just wasn't for him and decided not to go back after the internship ended. Art was something that he has done and enjoyed since he was young and he decided he wanted to make a career of it and began a website on ArtBalanced.com to showcase and sell his work.
You can find one of his featured art pieces here or go to his website at www.artbalanced.com/matthew-dickuns-gallery/ to see more of his work and even make a purchase to support his career in art.
https://scalucp.org/wp-content/uploads/2018/05/matthewdickunscherry.png
690
1038
Jocelyn Hartman
https://scalucp.org/wp-content/uploads/2020/09/aucp-logo.png
Jocelyn Hartman
2018-05-14 12:38:40
2018-05-14 12:38:40
Matthew Dickun of Mount Washington, PA