Researchers have developed a blood test that can detect mild traumatic brain injuries (mTBI), commonly called concussions, on the spot and within minutes and requiring only a single drop of blood….
Approved by the U.S. Food and Drug Administration (FDA) earlier this year, the new device, named TBIcheck, is portable and doesn't require a doctor to use.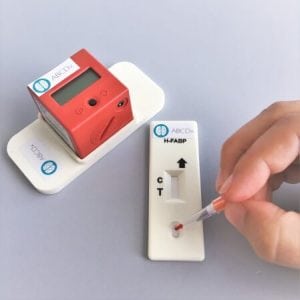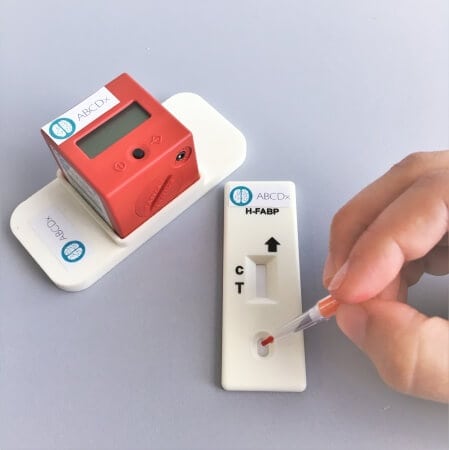 Every year, approximately 2.8 million people are diagnosed with traumatic brain injuries in the U.S., which can vary from mild to severe.
Repetitive brain trauma can lead to the development of Chronic Traumatic Encephalopathy (CTE), a degenerative brain disease in which a protein called Tau spreads throughout the brain, killing brain cells and affecting mood and behavior.
CTE is notably common in athletes, who are regularly subject to head collisions. Over 300,000 children, age 19 or younger, are hospitalized annually due to head injuries sustained while playing sports.
In these cases, early, accurate and on-the-spot concussion diagnosis is particularly important. It is easy to imagine this instrument being put to use on the sidelines of professional and peewee games alike, ensuring that athletes who have sustained brain injuries don't return to the game.
People with suspected head trauma can be tested for mild traumatic brain injury without having to go through a CT scan, which are not only untimely and expensive but expose the brain to potentially harmful radiation.
Approximately 90 percent of people who go to emergency rooms with suspected brain trauma return negative CT scans.
There are more school-aged kids participating in sports these days. Twenty years ago, head injuries weren't being reported as frequently, but because they are now aware of it, head injuries are being diagnosed more often."
Worries about the care that adults are receiving after a head trauma, like in a car accident are also a concern. Many adult patients who suffer a traumatic brain injury rarely receive follow-up care after being discharged from a hospital emergency room. A lot of people who go into hospitals after an car accident return three months, six months, 12 months later struggling to function. The non-sport concussion diagnoses are often neglected.
Brain injuries and concussions can alter mood, balance and affect cognitive abilities. Sometimes symptoms can last for years or become permanent.
There is still some confusion of what to do. Some common myths about the diagnosis and treatment of concussions are the following:
Myth 1: Recovery requires a lot of time in a dark room.
For years, patients were told to avoid bright lights and screens as their head recovered from an injury. This is no longer recommended and can work against recovery. Now doctors try to get patients back into a normal routine sooner rather than later. Start slowly and work up to the regular hours routine. However, cell phone usage should be limited because looking at the screen too much is not good. Parents should still be aware of screen time with phones and computers. The eye movement is what makes symptoms worse.
Myth 2: Repeated hits to the head don't have long-term impacts on the brain.
Researchers say it's unclear how or when concussions can lead to long-term or permanent brain damage.
Myth 3: There's no need for a brain checkup until you injure your head.
Physicians suggest that athletes come in for testing before the season starts. This way, doctors have information they can use from when a patient is healthy and performing normally to guide them during treatment in the case of a concussion.
Testing is always suggested and never wait to do so!
*AUCP does not own the rights to this document. Adapted from articles posted by the FDA on 2/18/18 and The University Network in August of 2018.
https://scalucp.org/wp-content/uploads/2018/10/concussion-test.jpg
450
449
Jocelyn Hartman
https://scalucp.org/wp-content/uploads/2018/04/aucp-logo-156@2x.png
Jocelyn Hartman
2018-10-03 12:09:08
2018-10-03 12:10:15
New Testing Instrument Can Diagnose Concussions